Everything you need to get started with video for your business this year on Facebook, Instagram, and beyond
Because you're here, we assume you already know that there's enormous potential for growing your business through video marketing on Facebook, Instagram, YouTube, Twitter, and other social platforms.
But where do you even start?
That's where we come in.
In the following article, we'll walk you through a series of questions that'll help you put together a social video strategy for 2019 that fits into your lifestyle and budget—and will resonate with your target customer.
7 QUESTIONS FOR BUILDING YOUR SOCIAL VIDEO STRATEGY
When it comes to putting together a strategy for video marketing on social media, it may seem like there's a lot to think about, from what types of videos you'll make to where you'll post them, how much time you'll commit, what your goals are, and everything in between. But it's easier than you think when you have a plan of action prepared.
These seven questions will walk you through all the necessary components for building your winning social video strategy—plus we've included some useful tips and information along the way!
WHAT ARE YOUR OBJECTIVES?
We'll start things out with the question of all questions—what are you hoping to get out of your year of incorporating video into your social marketing?
Facebook Ads Manager does a nice job of breaking out popular objectives into three stages of the customer's journey: Awareness, Consideration, and Conversion.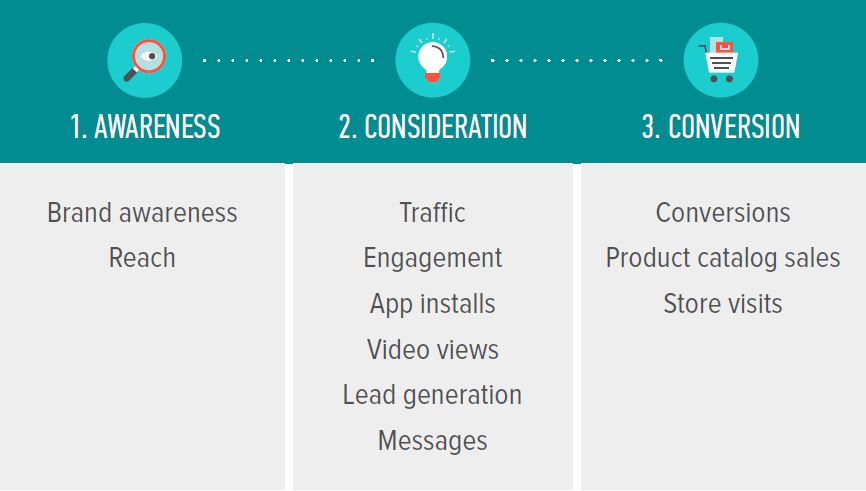 Remember that you don't have to choose just one objective for the year, but keeping a tight focus will allow you to spend your time really optimizing your social video strategy to achieve the desired results.
And when it comes to creating individual videos, each one should focus on a specific objective in order to drive the best results. Some videos should drive awareness; some videos should drive engage-ment and views; and, of course, some videos should drive sales. But videos should be concise and when you try to do too much with one video, you may end up confusing your audience with what action you want them to take.
Pro tip:
When you're starting out, objectives in the "Consideration" group are often easiest to measure.
HOW WILL YOU MEASURE SUCCESS?
Take a look at the objectives you listed in the last question. Now, put yourself at the end of the year (or the end of a specific campaign) and think about what you can measure to determine whether or not you were successful in achieving them.
For instance, if you said you'd like to use video to drive traffic to your website, then you'd measure success according to how many new vis-itors hit your site as a result of your video campaigns. If you want to use video to drive engagement on your Facebook page, you'd mea-sure success based on reactions, comments, and shares.
You should also keep your overall marketing strategy in mind when coming up with your goals. For instance, if you're just starting out, be-fore you even think about driving sales or traffic, the first thing you'll need to do is commit to creating videos in the first place. So, when you're just starting out, it may be helpful to come up with some goals around this (i.e. to create 1 YouTube video a month or for 50 percent of your Facebook posts to contain video).
Pro tip:
Use concrete numbers and dates with your goals. "Drive traffic to my website" is a nice objective, but it's hard to measure without knowing by how much and by when.
A better objective would be to "Use video to increase traffic to my website from 10K monthly visitors to 15K monthly visitors by the end of 2019."
HOW MUCH TIME WILL YOU SPEND?
Once you've determined your objectives and know how you'll measure them, it's time to put some thought into how much time you'll spend on social video this year.
For this question, it's important to be realistic. You've likely got your hands full with a myriad of other daily tasks and responsibilities. But know that you don't need to spend a ton of time—commit to what feels doable and build your strategy accordingly.
MAKING THE TIME FOR SOCIAL VIDEO
To keep yourself accountable, carve out some regular time in your daily or weekly schedule to focus on video. Whether it's an hour each morning while you drink your coffee, or a couple hour block once a week, having this time reserved will help you focus on your video goals.
And you don't have to use this time for video creation alone. Keep it on your schedule as a dedicated time to learn, research, improve, and create. Here are some ideas:
Save videos that inspire you as you scroll through the News Feed. Ask yourself, what is it about these videos you like? Try to replicate those elements in your own videos.
Challenge yourself to quickly create and publish a video in one sitting. The more you practice, the faster and better you'll get.
Look back at an old video that didn't perform as well as you'd hoped. Think about how you could change the video for the better and try again.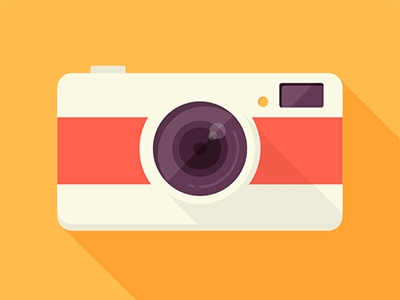 Pro tip:
Take lots of photos as you go about your day-to-day business. This will save time and make your life easier when you sit down to create videos—you'll have a lot to work with!
HOW MUCH MONEY WILL YOU SPEND?
Just like you likely have a budget set aside for other company-related expenses throughout the year, you'll want to plan out your budget for video marketing too. These expenses can include everything from production to targeted advertising on Facebook, YouTube, and beyond, but it's not as expensive as you may think. To save money you can create videos yourself with photos and video clips you've already got on hand, or shoot new footage with your smartphone, so most of your investment can be spent on getting your videos in front of the right audiences.
A NOTE ON ORGANIC PERFORMANCE
But wait! Before we get into paying to get results, a note on organic reach and engagement. Yes, you may be creating some videos spe-cifically to use as ads, but you should also be creating videos to post organically, as unpaid promotion, on your social profiles too, to en-gage with your fans and followers. This will also allow you to see what types of videos are getting the most engagement and reach so that you can spend against those.
DETERMINING YOUR BUDGET
Now, let's get back to the question of how much you'll spend. We'd recommend allotting $50 per video you create for advertising. If you're planning to make one video a week, that'll come to about $200 per month.
Remember: this doesn't mean you have to spend $50 to promote each video. Focus your spend on the videos that are performing best.
Pro tip:
To get more mileage from your paid reach, let your posts run for 1-24 hours to gain some organic traction before boosting them.
WHO IS YOUR AUDIENCE?
The targeting tools in Facebook Ads Manager allow you to get incredi-bly granular with your targeting on Facebook and Instagram. Use them well and you can reach a relevant customized audience that your content, product, or service will resonate with.
So take some time to think about what defines your target customer (or customers). You can use it to create a Saved Audience in Facebook Ads Manager. This way, you'll be ready to go as soon as you've got a video gaining organic traction that you want to boost.
HERE ARE 8 QUESTIONS HELP YOU FIND THE RIGHT TARGET AUDIENCE ON FACEBOOK: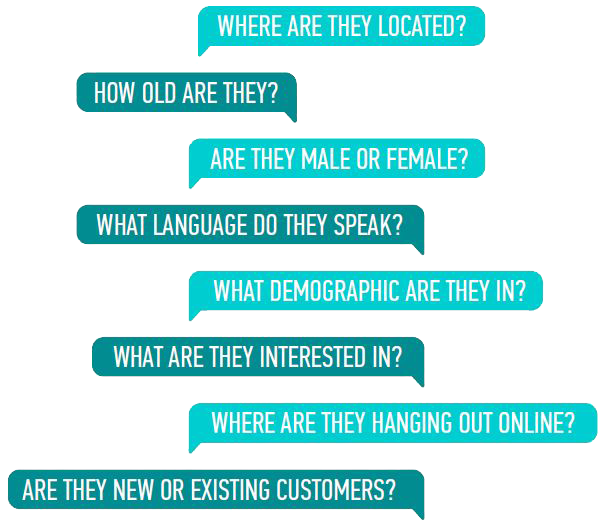 WHICH PLATFORMS WILL YOU FOCUS ON?
There are a ton of different social platforms out there at the moment, from the big ones like Facebook, Instagram, Twitter, and YouTube to LinkedIn, Snapchat, Pinterest, Google+, and beyond.
You know your customer and target audience better than anyone, so based on where they're currently spending the most time online, you'll be able to choose which platforms you want to focus on creat-ing videos for in 2018.
Pro tip:
Everyone and their mother (literally) is on Facebook. So paired with that fact, and Facebook Ads Manager's insane ability to target ads, you'll definitely want to be using videos on Facebook in 2018. Instagram is also gaining traction as a must for advertisers.
Learn more about using video on Facebook, Instagram, YouTube, and Twitter from the Social Video Cheat Sheet on page 14.
WHAT VIDEOS WILL YOU MAKE?
So what kinds of videos will you make? We encourage you to focus on content-driven videos over sales-driven.
What do we mean by this? Well, the videos you share should actually be useful to viewers. Instead of just telling people to buy from you, teach them something, entertain them, or inspire them. By doing so, you gain authority and trust so, when it comes time to make the sale, potential customers will have no doubts about buying from you. Of course, sometimes you will want to create videos just to advertise a product or service, which is okay too—especially for targeted ads. But we'd recommend that for every sales-driven video you create, you create at least two content-driven videos.
BITE-SIZED PRODUCT INTRO
EVENT RSVP
EDITORIAL
STEP BY STEP
TOP 5 LIST
BEHIND THE SCENES
Pro tip:
Start with what you have. Take inventory of the photos, video clips, and other assets you've already got and see what videos you can create with them.
NEXT STEPS
Once you've answered our seven questions for building your social video strategy, what's next? It's time to map out your strategy according to how you answered them. We suggest creating a document or throwing dates on a calendar to keep yourself accountable.
According to the amount of time you decided to spend on your social video marketing, how many videos will you commit to making each month? Each week? Mark them down on your calendar, along with what types of videos you'd like to try and which social media platforms you'd like to share them to.